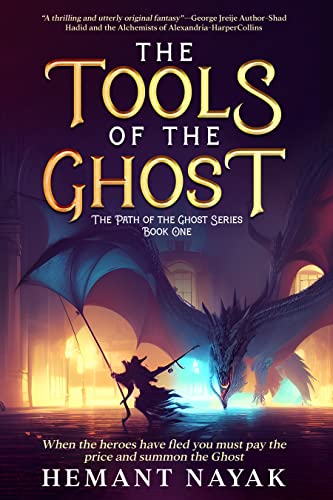 To track down a demon, FBI agent Kiran Patel must summon history's most terrible monster to be her new partner AND make sure he doesn't kill her before they succeed. She's going to need all his muscle and all her brains to take on the demons, the cultists, and the dragon in their way.
PRAISE FOR TOOLS OF THE GHOST
"With writing that grips you from the first page and keeps you at the edge of your seat, The Tools of the Ghost is a thrilling and utterly original fantasy. You will tense up from the suspense on one page and holler in laughter on the next, but the story's greatest trick is making you fall in love with its unique characters, human or otherwise." -George Jreije Author of Shad Hadid and the Alchemists of Alexandria – HarperCollins
Eleven children are missing, and Kiran's partner was just killed by something out of a nightmare while trying to find them. Before he dies, he informs her that there's only one hope left—she's going to have to summon the Ghost, a creature so disastrous that even the residents of Hell fear him. But there are two rules she must never break. Don't promise the Ghost anything and don't trust him for a second. Heaven rejected him. Hell feared him. His crime was the only one that God could never forgive, but when evil is too powerful for anyone to confront, there's only one solution left—to summon the Ghost. Now one unlikely FBI agent and a creature worse than the demons of Hell are the only chance left to find the children. Kiran's got to solve the crime before more kids disappear or her new partner does her in. $2.99 on Kindle.