Whether you're into J.R.R. Tolkein's The Lord of the Rings, J.K. Rowling's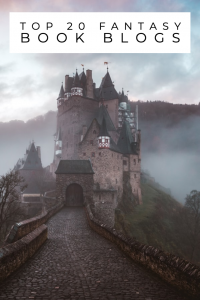 Harry Potter, or C.S. Lewis's The Chronicles of Narnia, you likely can't help but to become completely absorbed in a great fantasy novel. The exciting tales of magical creatures, wizards, dark magic, castles, and enchanted forests can hold anyone captive for hours on end, and yet the book always seems to come to an end far too soon.
If you adore fantasy novels, you're certainly not alone. There are many blogs and communities of fantasy enthusiasts where you can connect with like-minded fans of the genre and get new recommendations to add to your "must-read" list. We narrowed down 20 of the best fantasy book blogs to help you get started: 
This blog, which originated in the U.K., is currently considered to be one of the world's leading fantasy book communities, featuring author interviews, news, book reviews, and more on their site.
Based in England, this blog is committed to reviewing fantasy novels for fans of all ages.
This blog's homepage states that, "Life's too short to read bad books," and there are hundreds of book reviews, fantasy news, and other fan opinions to sift through on this site (there's even a giveaway section!).
Author Philip Athens offers aspiring fantasy writers all kinds of valuable advice and insights through this blog, including how to name fantasy characters, character-building tips, and much more.
This site features weekly blog posts on all different subgenres of fantasy novels; whether you love epic, dark, romantic, paranormal, or young adult fantasy, you're sure to find some great recommendations here!
Risingshadow features both science fiction and fantasy novels, but there are plenty of ways to filter through the posts to find book recommendations and reviews you'll enjoy. This site features different discussion threads, forums, author interviews, guest posts, and more.
Originally launched in 2007, Fantasy Cafe has been a go-to fantasy book blog for thousands of readers. The site includes reviews and posts about all types of fantasy novels, including science fiction and YA novels.
The ever-popular bookstore, Barnes & Noble, launched its own blog dedicated solely to science fiction and fantasy books. You'll find book reviews, interviews, speculations, and get recommendations from the "Books of the Month" section.
This website truly has it all: author interviews, book reviews, lists of the most highly recommended fantasy books, and it even highlights other fantasy book blogs for visitors to check out.
The Fantasy Hive is all about fantasy in all kinds of forms, including books, TV shows, original works, and even games. The tight-knit community supports aspiring fantasy writers, features numerous book reviews, and offers plenty of room for discussions and speculation about the genre.
This blog has been up and running since 2005, featuring fantasy, science fiction, and speculative fiction book reviews, author interviews, bestseller news, contests, giveaways and anything else pertinent to fans of fantasy.
This unique blog features insights and book reviews from seven different fantasy book enthusiasts from five different countries! Along with interviews, book reviews, and speculations on the fantasy genre, the site moderators also have a podcast you can tune into.
Created by a lifelong fan of the fantasy and sci-fi genres, The Middle Shelf is a great place to find unique novels and diverse authors you may not have heard of before.
Although this site features virtually every literary genre under the sun, you can narrow down your search by selecting the "Sci-Fi/Fantasy" section. Here, you'll find blog posts, book recommendations, and more content from avid readers just like you.
Dive into the diverse articles, book reviews, and theories that are posted frequently on The Guardian's blog page to find new books to read and other fans of the genre.
This sci-fi and fantasy site is run by two enthusiastic readers who have been creating frequent posts, book reviews, interviews, and more since 2008.
This lovely blog has a plethora of reviews for children's and adult fantasy novels, graphic novels, comics, and more, as well as frequent guest posts from authors and special giveaways.
Blogger Aimal reviews thriller, fantasy, and horror novels, as well as encouraging open discussions among bookworms, featuring authors via guest posts, and offering her professional service as a sensitivity reader. 
This blog covers three genres: science fiction, fantasy, and horror. However, there is plenty of unique material you'll find on this site, including movie reviews, book reviews, author interviews, guest posts, giveaways, bestseller news, and more.
After you navigate to the "Fantasy" category of the site, you'll be met with lists of book recommendations, author interviews, new fantasy book releases, and unique giveaways.