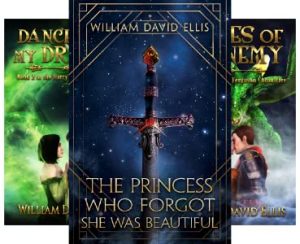 It started as a story…
…but a mysterious little girl changed everything.
Now, a dragon has come to an East Texas town, and they need a hero.
An old man rises to a glory he never thought he'd know again, and all because he was coerced into telling little kids a story.
A young boy, a princess, a talking sword and an evil dragon captivate snaggled-tooth munchkins.
From a library in East Texas to a sacrificial altar in Nazi Germany,
From the desert sands of North Africa to London's docks,
This trilogy will keep you on the edge of your seat with tears, laughter and romance.
You won't be able to put it down… the first three books with more to come.
If you enjoy epic fantasy, this book set is for you.
William David Ellis is a fabulous storyteller, I would give these novels over 5 stars. The Harry Ferguson Chronicles are fast-paced stories that will draw you in and mesmerize you with a seemingly simple child's story that quickly turns dangerous. The characters are complex and their intricate connections gradually unfold as the story progresses. The author builds this story up, and at the end, you will find yourself wanting the next book in this series, Dances With My Dragon. I am smitten with these characters and can't wait to get started on the next book.
An entertaining read for the whole family
The Princess Who Forgot She Was Beautiful is the first book in the Harry Ferguson Chronicles. I have to say that this has been a great start to an exciting series. The characters are interesting; the story is witty and whimsical, and the plot moves at an engaging pace that makes the book hard to put down.
Brilliant Fantasy Adventure What vivid pictures William David Ellis paints with words! He seems to really understand children and their behaviors, putting humor into the telling. He has a great ability to tell a story and educate as well. This is a book that I wasn't able to put down and highly recommend.
If you have ever wished for more and always settled for less, if you've given up believing that real love can ever be. If you have devoured shallow notions about love and they have left a taste in your mouth that reminds you of the bottom of an ash tray.
Then this series might be for you. It starts out with on with an old theme that is remembered for a reason so central to our deepest natures and so painful when we lack it that we hide from the very idea.
Till we hope again.
Those feelings are exactly what the characters in this story experiences. The hero has waited a thousand years wishing for the few moments he shared centuries before with the only woman who fit the hollow place in his soul. When he finds her again she is still as far away as ever, not only has she forgotten who she is, she is now stuck in the body of a six-year-old, and the hero has aged till he is an old man. But that is where the story begins, and does it ever get wild from there! Time travel is a wonderful thing it changes you. Mentally emotionally, spiritually and physically. But I am not spoiling this for you…buy the book! From $0.99 to $3.99 on Kindle.