Have you been searching for a modern-day thriller with a healthy dose of magic? Look no further than Cryptic Magic, an exciting debut from fantasy writer and enthusiast Lily Skyy.
A promising up-and-coming author, Skyy has always been enchanted with magical realms, fairytale creatures, and epic storylines. In her novels, she hopes to transport readers to other worlds and entertain them with every page.
What Is Urban Fantasy?
Skyy's debut novel falls into the literary subgenre of urban fantasy. These types of books are set in familiar environments, such as a contemporary city, within a recent period of time. The author might use the urban setting to contrast with magical or supernatural elements, like how J.K. Rowling hid the wizarding world within the modern city of London.
Urban fantasy tends to be grittier, darker, and more action-packed than standard fantasy novels. Characters might be vigilantes trying to apprehend supernatural or paranormal criminals in their communities or struggling to come to terms with their own growing superpowers. Common themes in urban fantasy novels tend to include conflicts between humans and fantasy beings, as well as the changes these characters' choices cause to their environments.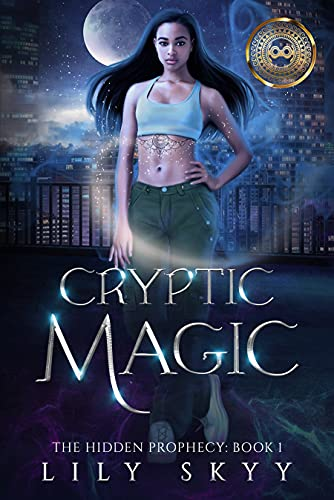 Kinza is a high-school student in the bustling city of Chicago. She lives with her grandmother, has a part-time cleaning job in the evenings, and lives the standard life of a teenage girl. However, this illusion will soon be shattered when she comes face-to-face with a mystical bounty hunter who claims that she's not entirely human.
Zaid is part of the Anunnaki, a mysterious ancient race that has been protecting mankind for millenia. As a bounty hunter, Zaid's responsibility is tracking down rogue supernatural beings and bringing them back to the city of Rhapta to face the consequences of their actions. For his next assignment, Zaid is told that his target is an Ubir, a powerful Annunaki who has gone rogue. But when Zaid finds his target, he realizes that Kinza is unaware of who she really is.
Together, Zaid and Kinza have to untangle their complicated past and return to the city of Rhapta to explain the situation to the Annunaki. But when dark, powerful forces threaten their mission, Kinza has to quickly come to terms with the fact that she's more than human.
More from Lily Skyy
If you enjoy books like Cryptic Magic, you'll be excited to know that Lily Skyy has three other books scheduled for release throughout 2022! Look for these upcoming titles this year:
February 2022: Frenemies Like These: The Lords of Aurora University Book 1
April 2022: The Unchosen Ones: The Unlikely Defenders Book 1
May 2022: Erratic Magic: The Hidden Prophecy Series Book 2