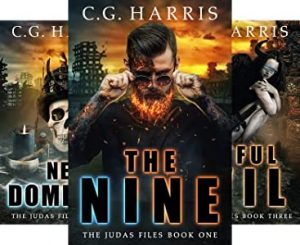 Hell is not what you think … It's bone-chilling.
Gabe is a good guy making the best of eternity in a place not known for its hospitality — until he is recruited by Judas Iscariot (yes, that Judas) to join a sect of double agents dedicated to sabotaging the mayhem being released on Earth. Armed with a skill set of irritating quips and zero knowledge of the modern world, Gabe must figure out how to work with his beautiful, tough-as-nails partner without botching their missions or revealing his true identity.
If you like snarky characters and dark humor, then you'll love The Judas Files, a five book, action-packed, supernatural urban fantasy series. (Think Dresden Files against the backdrop of Hell). Series is complete
Free to $4.99 on Kindle.