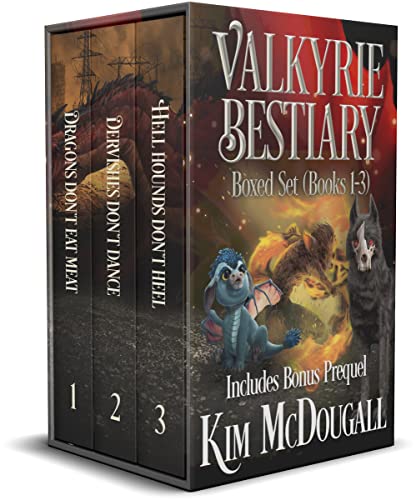 A fae pest-controller with a soft heart can easily end up with an apartment full of rescues.
And Kyra already has too many critters, including a basilisk who thinks he's a turkey, a banshee nanny, and a pygmy kraken. She might take care of them, but they also fill her need for family. And when that family is threatened, she'll risk everything to save them.
Includes Bonus Prequel, Three Half Goats Gruff:
One year before Kyra Greene meets dragon poachers in an old cemetery, she comes across another mysterious figure: Henry Mason, head of the Guardians of Montreal. Thrown together to save a middle school from an unusual infestation, Kyra and Mason share one heart-stopping night. Come sing around the campfire with satyrs, learn to trap a rock troll, and discover how Kyra found one little lost cephalopod.
Dragons Don't Eat Meat, Book 1:
When Kyra Greene finds an abandoned baby dragon, she doesn't want to bring him home, but until she hunts down the brute trying to kill all the dragons and start a civil war among the fae, she's on babysitting duty.
To reunite the dragon with his lost thunder, she'll even join forces with the handsome and irritating captain of the city's vigilante Guardians, who never fails to show up at her most undignified moments.
Dervishes Don't Dance, Book 2
Sometimes you just need to hug your fire dervish. Like when he protects you from brownies. Or goes down into the scary basement with you because he's proud to be your apprentice.
Or when he saves the world.
Kyra Greene, the only pest controller qualified to deal with the strange and wonderful creatures that come out of the shadows when magic flares, is on a new adventure when someone lets a golem loose in Montreal Ward.
Hell Hounds Don't Heel, Book 3
Mason promised to return from France with the one weapon capable of killing the formidable witch who was reborn from the bloodstone, but no one has heard from him in months. Now Kyra must solve a murder on her own before all the gargoyles in end up in jail…or six feet in the ground. $0.99 on Kindle.