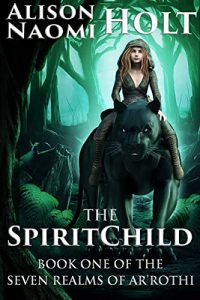 An orphan, a duchess, and a diverse cast of Animal Spirit Guides join forces in this epic fantasy where love, grit, and determination not only heal a wounded heart but also lay a foundation for a battle against a black evil lurking within the Seven Realms of Ar'rothi.
Bree—a warrior who, in times of need, serves her king on the battlefields of Anacafria.
Katie—The Spirit Child, a nine-year-old orphan with a frightening power she must learn to yield with a warrior's skills and the spiritual understanding of a saint.
Becca and Nashotah—lesbian lovers, healers, and warriors who straddle two cultures while struggling to help the duchess and Katie trust each other's strengths and understand their weaknesses.
Perfect for animal lovers and fans of fantasy authors such as Anne McCaffrey and Mercedes Lackey, The Spirit Child blends the lyrical and mystical with pulse-pounding action. Free on Kindle.