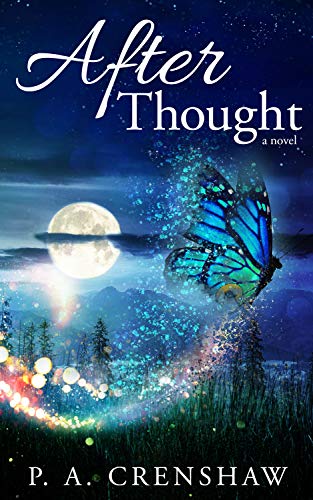 What if ordinary people could do extraordinary things by thought alone? What if falling in love could get you killed?
Welcome to P. A. Crenshaw's debut new adult fantasy romance, AFTER THOUGHT, which unveils a secretive world of magic, danger, heartbreak, and romance, where the power of human thought can produce the ultimate good—and the ultimate evil.
Finally in New York with a career on the rise, rock star wannabe Adam Lancaster could have never foreseen that a mundane trip to the mailbox would change his life. The simple act of delivering a misdelivered package sets Adam on a path from which he can never return.
Smitten by his lovely, mysterious neighbor, Madeline Smith, Adam resolves to get to know her better. But the more time he spends with Maddie, the more mysterious she becomes. Strange, dangerous events occur. Her behavior is erratic. Too many coincidences defy explanation. And just when he thinks that they are making a real breakthrough in their relationship, she walks away "for his own good."
Adam needs to know exactly who he fell in love with and why she broke his heart. When he confronts her to find the answers, will the truth set him free or destroy him? Free on Kindle.