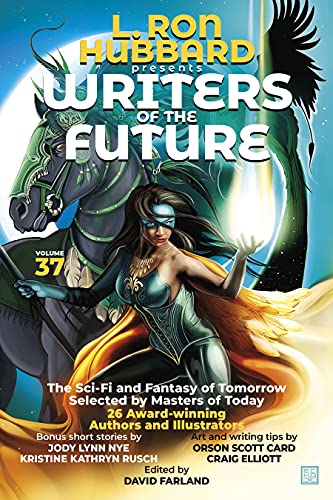 "Hot new talent." —Locus
"Exciting and engrossing, with stories that range across the spectrum of SF and fantasy." —Publisher's Weekly
The Sci-Fi and Fantasy of Tomorrow Selected by Masters of Today
From dark fantasy to dystopian nightmare, from magical realism to military science, from paranormal urban fantasy to post-apocalyptic power trips and beyond.
Take flight on a starship powered by a godlike being, willing to go to any length to know what it is to be human. Delve into the psyche of a scientist who must choose between ambition and compassion while compelled to participate in a secret and sadistic government project. Get lost in the chilling Museum of Modern Warfare, where one woman is about to discover life-changing secrets. Experience the stories that challenge our sense of self—and our sense of the world.
28 Award-winning authors and illustrators and 3 short stories by L. Ron Hubbard, Jody Lynn Nye, Kristine Kathryn Rusch and art and writing tips. $1.99 on Kindle.