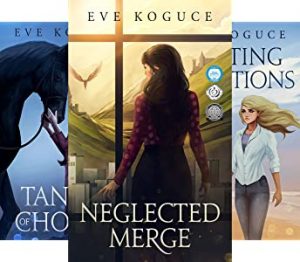 There aren't any magical elements or creatures in the Neglected Merge fantasy saga. No vampires, fairies, or mages. The Neglected Merge trilogy is about the ways the world we live in could evolve if it was almost shattered by an apocalyptic event. It is about the paths we take – as nations and as individuals. And the wings mark the differences between people that often separate them both physically and in their minds.
Join the two nations – the Wingless and the Winged Ones – on the road to finding common ground. Join the royalty of the Winged Ones in their journey of exploring the world of passions they have been taught to despise. Imagine the utopian lifestyle of the Wingless full of pleasure and easiness, designed to make everyone feel happy every minute of their lives. Meet those who have found themselves unsatisfied and restless while everyone around them seems to be accepting the general course as a gift. How long does it take to change the world? And in the end, who will be the victim and who will enjoy a happy ending?
The Chinese proverb says: "When the winds of change blow, some people build walls and others build windmills."
What will the people of two worlds, so utterly different and at the same time so similar, choose?
Book one of the trilogy – "Neglected Merge" – has won three awards in the following book awards contests:
Silver Medal in the 2021 Global Book Awards in the Science Fiction / Fantasy category;
Finalist Award in the 2021 Readers' Favorite International Book Award Contest in the Fantasy General category;
Honorable Mention award in the 2021 Royal Dragonfly Book Awards in the Science Fiction/Fantasy category.
Free to $0.99 on Kindle.