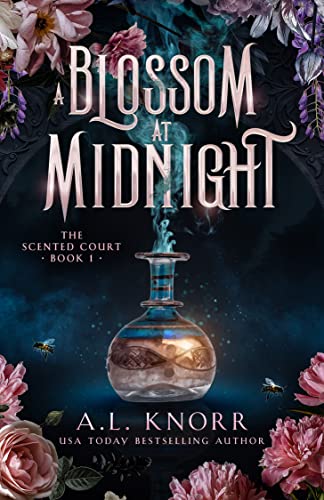 One earns a coveted place among royalty. Another is imprisoned by her betrothed, while the third is exiled until he can prove his worth. Can these three fae prevent a war?
Dreaming of escaping her simple country life and tired of keeping her winged familiars a secret, half-fae Jessica finds herself swept into a breathtaking world of an elite retinue of fae performers known as the Calyx. As she learns to master her abilities, Jess is expected to entertain at glittering balls in the richest kingdom in Ivryndi, alongside far more experienced and beautiful flora fae. She is sworn to secrecy as she discovers the source of their wealth–the perfumes that royals travel from far-flung and exotic kingdoms to possess. As her exciting new life—and magic—blossoms, Jess learns that her mother has been keeping a secret of her own, one that changes everything.
Rejection has left fae courtier Laec wallowing in wine and disdainful of what he sees in the mirror. When Queen Elphame offers him a foreign commission, he jumps at the chance for a fresh start, but when he meets a beautiful and mysterious stranger on the road, he soon learns that healing his heart may inflame the very trouble his queen sent him to prevent.
Beautiful and eligible Çifta believes in the importance of duty. Wishing to please her father, she agrees to marry a powerful unseelie prince. But when she discovers his cold heart and attempts to break the engagement, she suddenly finds herself in chains. Alone and trapped in a damp fortress, she cannot see a way out.
When a visit to another realm sparks a dark turn of events, it sets these three fae on a collision course. Will they wilt under pressure or become a thorny threat to evil? $1.99 on Kindle.