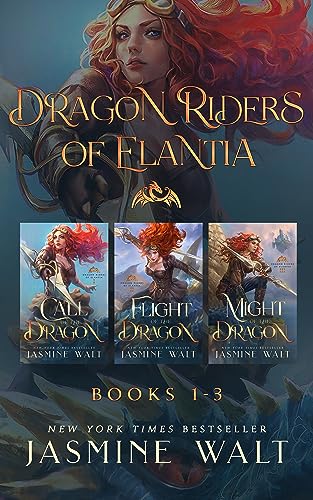 This boxed set contains the first three books in the Dragon Riders of Elantia Series: Call of the Dragon, Flight of the Dragon, and Might of the Dragon. If you like sassy heroines, spunky dragons, crazy adventures, wild treasure hunts, this is the series for you!
From the description for Call of the Dragon:
Zara Kenrook has never wanted to be ordinary. Abandoned at an orphanage, destined for a life in the slums, she's clawed her way to the top and made herself a name as one of the best treasure hunters in Elantia.
But Zara hasn't gotten to where she is without making enemies, and when one of them calls in a debt, her entire livelihood is thrown into peril. Suddenly, Zara is faced with two impossible choices–break into a dragon rider's home and steal a priceless artifact, or lose the career she's worked so hard to build.
Luckily, Zara has some experience pulling off heists, and she's never been one to back down from a challenge. But when the object she tries to steal turns out to be a dragon egg, her whole world changes. For this particular dragon is about to hatch, and once it lays its fiery eyes on Zara, her life will never be the same…
$0.99 on Kindle.