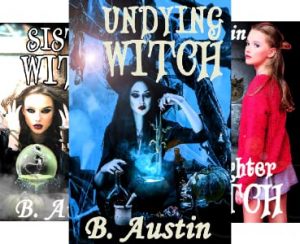 Follow the saga of Dima and her dysfunctional family from 1918 to 2007. Dima has a shapeshifting stone which allows her to stay young. Daughter Medea turns into a cat at night. Daughter Nikki can raise the dead. Daughter Liliya is schizophrenic, bipolar, and jealous. Granddaughter Astra can shift into a wolf, but is unhappy as a 3rd-generation witch. The Romanov Witches are just your ordinary family with secrets, powerful magic, dangerous enemies, and curses. Why can't the family just get along?
Book 4, Witch Hill, is a new release and completes the Romanov Witches Origins series.
Witch Love Triangle, Book 1 of a spinoff Paranormal Romance Series, entitled Romanov Witches Love Spells, is now available for preorder. Free to $0.99 on Kindle.