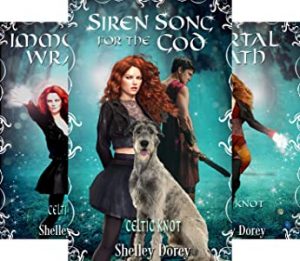 THOR meets Wonder Woman in this Paranormal Romance Fantasy.
Except the god is an ancient Celt, and Wonder Woman is a waitress from 'da Bronx'. Throw in a ripped Fae Prince, an Irish Wolfhound who's an actual 'dog of war', a banshee or two, some elves, trolls and demi-gods and you're in for an exciting, romance saga with tons of laughs.
When Bernadette accidentally awakened Lugh, Tuatha de Danaan from a spell, his enemies also took note. Powerful demi-gods, who will stop at nothing to destroy him, even capturing his friends for leverage. The strife first happens in NY City and then follows them through time to Lugh's kingdom in Otherworld. Tension also sparks (along with crazy attraction!) between Lugh and Bernadette which leads her to a discovery of her heritage. The snarky, badass woman she meets in Lugh's world is her sister?
If you like epic tales of love, discovery and mythology, you'll love this complete, 3 book series, Celtic Knot.
$0.99 each on Kindle.