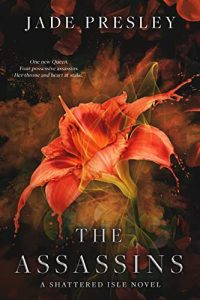 One New Queen. Four Possessive Assassins. Her Throne and Heart at Stake.
Two weeks ago, I was the handmaiden and best friend to the princess of the Shattered Isle.
Today—thanks to her—I'm Queen and have four possessive assassins protecting me at every turn. They couldn't be more different…or irresistible.
Each is irritatingly gorgeous, incredibly deadly, and consumes my every thought.
River is charming, funny, and compassionate.
Varian is sarcastic, edgy, and sharp.
Blaize is icy, mysterious, and dangerous.
And Crane has broken my heart too many times to count.
We have to work together to save my queendom, but the more time we spend together, the more we can't deny the electric chemistry begging us to cross the line between their professional duty to me and our building needs for each other.
Now the very being who tortured me for weeks has picked up right where the evil king left off and is terrorizing my Isle. While I wasn't raised to be queen, I love my people and will do anything to restore peace to my queendom—including chase down General Payne.
But there is more to his random attacks than we know, and if we can't figure it out, I risk losing the trust of my people, my throne, and the four assassins I can't live without.
The Assassins is a why choose fantasy with enemies to lovers themes, some violence, and steamy scenes for readers 18+.
$0.99 on Kindle.