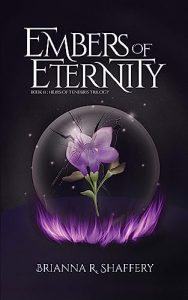 The spirits of the Shadow Forest are waking up.
Hidden in the centuries-old legends of the forest is the history forgotten by the country of Tenebris. But for seventeen-year-old Nyla, the 600-year-old history has become her present. Struggling to break the curse binding her to the Woodlane Manor, she and her companions must race against time to find and defeat Dinora, the evil sorceress of legend, before she can destroy their homeland. With the help of Xander and Shamira, Nyla searches for a way to break the curse that won't require a hefty sacrifice.
But even as their small victories swell their hope, the real battle is only just beginning. With the trio forced to confront their pasts, they must overcome their present trials and prepare to face the impending future. But what if Dinora raises her army before Nyla and Xander can gather the forces necessary to defeat her? Will they lose everything they had only just begun to dream of?
Return to Tenebris in Embers of Eternity, the stunning sequel to Brianna R. Shaffery's epic young adult fantasy series, the Heirs of Tenebris. Free on Kindle.